Have you ever known the costs of utility bills to be such a massive conversation?
As well as being a hot topic at home and at work, the news is full of stories about soaring energy prices, future supply questions and the environmental impact of gas, coal and oil. With fossil fuels all finite resources, the Government is also on the case with a target for the UK to be carbon neutral by 2050.
Traditional homes are our pride and joy, but they're as leaky as they are beautiful. The UK has the least energy-efficient housing in Europe, with the average Victorian property having an EPC rating of E. Compare that to the 80% of new homes being delivered with a rating of B.
While buyers love heritage and character, they're asking more and more questions on viewings about energy efficiency and running costs. The subject isn't going away and looks set to play an increasing role in saleability.
Coming from so far behind, can older homes catch up? They absolutely can, and this week's blog shows you how, from quick fixes to long-term energy-efficient improvements.
The savings on bills and the return on investment are greater and faster than ever, so let's see how you can lock in the heat and protect your home's future market value.
LOW-COST INSTANT ENERGY WINS
If you're not yet ready for a big-budget spend, try these seven low-cost deadly wins for an immediate difference in how warm and toasty your home feels:
draught proof your front door with a rotating keyhole cover, eco-flap over the letterbox, brush strip along the bottom and beading around the frame
overhaul original windows with draughtproof foam strips around the window frame and opening casements, or with beading for sashes
use reflective foil behind radiators on external walls to redirect heat back into the room rather than out the wall
inflate a chimney balloon to stop sooty draughts coming in, and the heat from drifting out
screw a double-sided draught-excluding sausage to the bottom of internal doors
fill gaps between exposed floorboards with a combination of sawdust, pva glue and brown paint to match the colour of the wood
seal cracks around window frames and skirting boards with flexible decorator's caulk that can be painted over to match your décor
INSULATION IS KEY
It's a shame that insulation is the least sexy topic of eco-friendly improvements, because it's an essential foundation of energy-independence. About 70% of heat loss disappears through walls (35%), ceilings (25%) and floors (10%), and without sufficient insulation, your home's energy-efficiency will never reach peak performance.
You'll find all manner of eco-friendly insulation materials available including shredded newspaper, wood-fibre, sheep's wool, hemp, and even recycled denim.
Exterior insulation is the least disruptive to your daily life, but comes with a few caveats. Many roofs don't overhang sufficiently to protect the insulation from rain, while decorative details or planning constraints may prevent changes to the front of your home (although rarely the back).
Cavity wall construction became a feature of homes from around 1920. Injecting a heating-retaining insulation material between the walls is simple and extremely cost effective, often less than £1,000.
Insulating the inside of exterior walls is usually the most feasible option for Edwardian and older homes, but means removing skirting, radiators, window ledges, power sockets and anything else fixed to the wall. It's highly effective, but the process is dusty! Bank on losing 5 to 10cm (2 to 4 inches) of space; less if you remove the original plaster as well.
Lofts can be insulated with rolls of fibreglass or sheep's wool, or choose an air-blown solution for difficult-to-reach areas. If your loft is pure storage, the insulation is placed between the ceiling joists of the rooms below. For energy-efficient loft conversions, the insulation needs to go between the sloping rafters under tiles or slates.
Floor insulation is particularly easy if you have a cellar; simply fit the insulating panels to the underside of the floorboards. Otherwise, lift the boards and fix support netting between the joists to hold the insulating panels in place.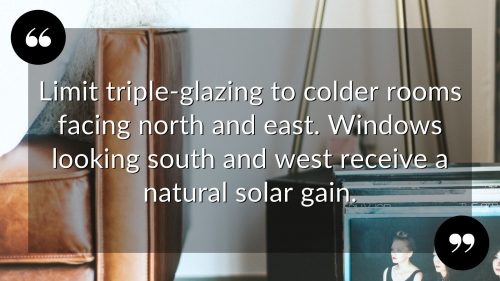 TO DOUBLE OR TRIPLE GLAZE?
According to English Heritage, windows account for about a fifth of a home's heat loss. A single-glazed pane has all the thermal properties of a wafer-thin mint, so to prevent your money from flying out of a closed window in huge energy bills, it's essential to upgrade.
As well as UPVC and aluminium models, modern double-glazed units are available with timber frames to match the character of a period property. The spaces between the glass panes are filled with argon gas that acts as a natural thermal barrier and keeps rooms warmer in the winter, and cooler in the summer.
While triple-glazing is even more effective – up to 40% in some cases – are the additional benefits worth the extra 30-50% price tag? The answer is yes, and no.
Windows facing south and west receive a natural solar gain, which usually makes double glazing sufficient.
North- and east-facing rooms are more suited to triple-glazing because the external walls are colder from less exposure to the sun.
Homes in busier locations receive additional benefits from the extra sound-proofing of triple glazing.
YOUR ROOMS NEED TO BREATHE
Once you've made your home airtight, it's time for the next challenge! Without an escape route, moisture from showering, cooking and regular human activity can build up in the air and lead to condensation, mould and damp.
A low-power heat recovery unit (also called an HRU) is a ventilation system that cleverly captures the heat from the air inside your home before replacing it with a fresh supply from outside. About the size of a shoebox, a unit fits neatly into any high-level space like an attic, wardrobe or kitchen wall cupboard.
Connected to each room by ceiling vents and 10cm ducting, an HRU puts a noticeable zing in the constantly refreshed air and has particular benefits to anyone with asthma or allergies.
If it's not practical to run ducting above your ceilings, opt for trickle vents in the frames above your windows. Although they don't have the same heat retaining qualities of an HRU, they do provide essential background ventilation without the need to leave windows open.
Sound-absorbing acoustic trickle vents are also available for locations with more external noise – for instance passing traffic, school playgrounds and increased pedestrian footfall.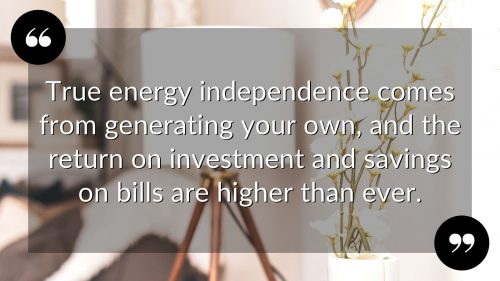 SOLAR POWER & ENERGY INDEPENDENCE
The Financial Times recently reported that gas and electricity suppliers have the highest profit margins among UK firms, ahead of 400 other sectors including private equity and commercial real estate.
With many fixed-rate energy tariffs jumping to £3,000 a year in 2022 (quite a leap from 2020's £900 average), it's no wonder that more and more homeowners are looking to join the 970,000 UK homes that already use solar energy.
Adopting solar power requires some forethought, and a specialist installer can advise you on the best and available options for your home. Meanwhile, here's a summary of the key points.
Solar power at-a-glance
The cost of domestic solar panels for a typical three-bedroom family home has halved since 2011 (gov.uk, 2019) to around £4,800.
Solar panels come in different varieties, from photovoltaic panels and roof tiles that generate electricity for power, appliances and electric cars, to thermal panels that generate heat for hot water.
Not all boilers or heating systems are compatible with solar power, so check with manufacturers to see if you need to replace any equipment.
South or southerly aspects are the most effective for generating energy, but you're not limited to the direction your roof faces. Installations can also be mounted at ground level in a non-shady spot.
Solar panels are generally seen as permitted development, but speak to your local authority first, particularly if your home is in a conservation area.
Energy is only generated in the day, so you'll need a battery to store up electricity to use at night.
A typical system can generate enough electricity to power your home for a whole year, but not always when you need it. The winter months have less sunshine but more demand for power, so you'll still need an energy supplier for now.
The Surplus Energy Guarantee (SEG) allows you to sell back any energy you don't use to the national grid, rather than letting it go to waste.
50% reductions in energy consumption are quite common, with more savings available depending on how much further you reduce your energy use.
Solar power is not just for houses. It's regularly used in apartments on the continent.
Would you like some real-life examples?
Nothing compares to a genuine success story, and two are even better!
Why not start with the heart- and house-warming tale of Chris Newman? He took his leaky Victorian villa to a level beyond PassivHaus, the gold standard of energy efficiency.
Then grab a large cuppa for Sue Wheat's seven-part blog of how she and her husband turned their damp and draughty terraced house into a cosy and energy-saving family home.
If you're wondering what buyers are looking for in a property in East Dulwich, give us a call on 02086907766 or email us at info@fishneedwater.com – we'll tell you all you need to know.
Thanks for reading our blog article. We'd love to be able to assist you further by giving you some open and transparent advice about your property and how we can assist you. Just fill out the form below and we will be in touch.
Book your property consultation now