"Give me six hours to chop down a tree and I will spend the first four hours sharpening the Axe" – said Abraham Lincoln famously.
It's a perfect metaphor for why preparation is so important in any walk of life.
Once you've decided you want to sell your home, you should be mindful that the less a buyer has to do to a property, the more they'll be willing to pay for it.
Quick Wins for adding extra value to your home
Over the years a consistent untruth I've heard over and again is that ' you'll sell your property for the same price without having to do anything'.
It's not true at all.
The industry has a habit of telling people what they want to hear, and most people want to hear they'll achieve the same result without having to spend any time, effort or money whatsoever.  Except you won't, because that's just not possible.
Even if your property has no significant faults, something as simple as a declutter and some conscientious styling can help you achieve a higher price for it.
As an agent it's my duty to let my clients know if they can make their property more saleable and have a wider appeal.
I fact, I'm sure you'd be surprised at how much more a buyer might pay for a property that's had a fresh coat of paint throughout.
Whilst I realise not everyone has a budget to spend on upgrades before they sell their home, most can afford some of their time to making small improvements.
And every property can be improved and made a little more saleable with some effort.
Redecorate
Redecorating is the most popular home improvement and adding a fresh coat of paint can be done for relatively low cost as you can do it yourself.  Keep colours neutral and if unsure talk to me.  Consider adding some wallpaper to add some colour.
Paper by www.littlegreene.com (called Pavona)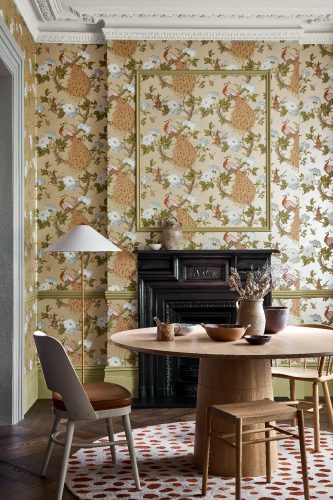 Superficial Defects
While unlikely to be the clinching factor in a house sale, small problems and defects can create an impression of a house being unloved and it will negatively impact your selling price. Bigger issues (like damp) should not be treated, and not covered up as it'll show up on a survey and cause you problems later on.
Things you might want to attend to –
peeling paint
grubby walls, especially near door frames and light switches
dripping taps or a constantly running cistern
squeaky floorboards, doors or stairs
mouldy sealant in kitchens or bathrooms
limescale build-up on kitchen and bathroom fittings
badly fitted laminate flooring
broken lightbulbs
Kerb Appeal
First impressions are vital, and the front door of your home is one of the first thing a viewer notices. If you cannot afford to replace the door, make sure it looks new by giving it a power wash or fresh coat of paint. Even a new doorknob can help.
Tidy and spruce up any front garden.  A few plant pots and some colour and a clear pathway can make the front of your home far more appealing. Put unsightly bins away and paint windowsills if they need it.
Garden Appeal
A well-designed garden can add a great deal of value, it should feel like a functional additional space for entertaining or relaxing, rather than an expanse of space. It's essential to trim borders, clear pathways and cut back any overgrown trees or bushes, particularly if they block direct sunlight into the property.
Kitchen Focus
Kitchens are often the main focus for many buyers, it may be the first thing they look to replace.  By the same token a buyer will pay more for a property with a Kitchen they like.  You might not be able to afford a whole new kitchen but, for a relatively small budget, having units painted or 'wrapped' (yes, they do kitchen wraps just like a car) can add a new lease of life.  Replacing cupboard handles or doors are great alternatives too.  A new kitchen adds the most value to any property (with the exception of a loft or rear extension).
Wrap by www.kitchenwrapco.com
The Bathroom
In the bathroom, re-grouting, getting rid of all limescale and replacing taps are good options. Bathrooms need to look fresh and hygienic, so paint the walls a neutral shade and ideally add a new shower curtain or a standard glass screen.  If you have the time and money a new bathroom can add value to your home, but always take advice on the style that will add the most buyer appeal.
Fresh Silicone around the bath, shower and sink makes a big difference!
Adding a room
A loft extension or a rear extension can add significant value to any property.  If you are thinking if having this work carried out, please get in touch.
"When we first met James, he spent a lot of time with us explaining how the 'look' of our flat on Rightmove and Zoopla had to be right.  He spent a good while talking through the little changes we needed to make, so we could take notes, and then came back again to see what we'd done before getting the photos taken.  His attention to detail here left us realising he's very passionate about his job and making sure he does all the right things to help us stand out online". Stephane, Kent 
Help with small upgrades
If your home would benefit from some small upgrades for example a fresh coat of paint or a new carpet and you haven't the budget for it, please get in touch with me as I may be able to offer a solution where you don't have to pay anything upfront, and we have the work carried out for you.
Call me on 020 8432 1505 or email me at james@fishneedwater.com if you want to talk about what you should consider doing to prepare your property for sale.
Thanks for reading our blog article. We'd love to be able to assist you further by giving you some open and transparent advice about your property and how we can assist you. Just fill out the form below and we will be in touch.
Book your property consultation now