With prices still rising and very few homes on the market, it seems incredible that 1 in 20 asking prices were slashed in May. The figures from Zoopla show an average drop of 9% (or £22,500); the biggest discount margin for 18 months.
House prices rose by 11.2% year-on-year in May, slightly down on the 12% from April to April but still a substantial increase. So why are homes being reduced in price?
Unfortunately, overvaluing is being used more and more to get homes on the market. Differences in opinion of a few percent between estate agents are perfectly normal, but the need for more stock is seeing homes hit the market with price tags of 20% and more above their likely value.
But flattering pricing doesn't get you moved, and the initial high can soon descend into anxiety, disappointment and irritation. So how can you tell if your home has been valued correctly or whether your move is being put at unnecessary risk?
In this week's blog, you'll find some practices to look out for, along with some steps you can take to avoid getting caught out.
THE PRICE OF ASKING TOO MUCH
It might seem tempting to try a higher price 'just in case' you find someone willing and financially able to pay way over the odds, but there are very real consequences when agents suggest you market your home at an inflated price:
Losing enquiries from buyers if your price takes you into another search band on the portals
Missing out on homes to buy because you haven't yet accepted an offer
Sacrificing all the benefits of a sellers' market and risking your home looking stale instead of fresh
Delaying your move or ruining your plans altogether.
Even if you did secure a buyer at a monumental price, there's a high risk of your home being down-valued by a mortgage lender or surveyor. This can lead to sales falling through or hefty renegotiations on your price that could threaten your purchase by shrinking your budget.
HOW CAN YOU TELL IF A VALUATION IS INFLATED?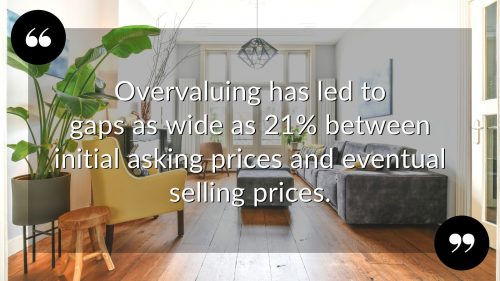 There are some tell-tale signs – either at the point of valuation or when you've been on the market for a while – that your home has been priced too high.
Here are some red flags to look out for.
Similar homes are on the market for less, while those in the same price range as yours are bigger or in more expensive locations.
You're getting either no interest at all or only a trickle of enquiries.
Nobody is coming back for a second look after their initial viewing.
Estate agents' boards are changing to 'sold' around you while yours still says 'for sale'.
Overvaluing has led to gaps as wide as 21% between asking prices and selling prices, proving that buyers know what they should be paying. Excessive pricing simply slows everything down.
HONEST MISTAKE OR DELIBERATE PLOY?
Valuations from estate agents should always be ambitious, but they should never offer false hope or put your move at risk. If an agent's valuation is substantially higher than all the others, it's worth a little investigation with a few well-chosen questions:
How many sales do they achieve at asking price or above?
How many of their listings need to be reduced in price before they sell?
How long are their homes on the market before going under offer?
What percentage of their listings get withdrawn?
With their answers in hand, you'll know if the promise of an agent's pricing is matched by their performance.
PROTECT YOURSELF WITH A GET-OUT CLAUSE
If you do appoint an agent who valued your home higher than all the others, make sure to protect yourself with a get-out clause in the contract.
The average time to agreeing a sale is currently around three weeks, so agents don't need to tie you down for months on end.
Use the following checklist to negotiate a shorter agreement:
Offer an initial contract length of no more than four weeks
Check the notice period – some ask for a month! You should be free to go whenever you choose, but don't agree to anything longer than seven days
Confirm you won't be liable for any marketing costs if you choose to switch agents after your initial term
Get all agreed changes in writing.
If an agent truly believes their high valuation is achievable, they'll have no trouble amending their terms. And if they insist on signing you up for several months, you'll have an insight into how confident they really are.
WHEN IS IT TIME TO SWITCH AGENTS?
If you've been on the market for a while, you're probably wondering what to do next. A lot will depend on whether you still have faith in your existing agent, so start with a candid conversation to see what they have to say.
They'll naturally want you to stay with them, but it's worth considering some of the benefits of switching before making your final decision:
your home will be immediately re-labelled as a new listing on the property portals, giving you a completely fresh start
a new property coming onto the market is the most exciting time for any estate agent and brings with it new energy and enthusiasm
new photos from new angles, perhaps with some rearranging of furniture and accessories, can give your online advert a game-changing makeover.
Remember: something's definitely wrong if you're not receiving any offers. There are too many buyers right now for any home to stick on the market, so a new agent with a new approach could be just the ticket to get your move back on track.
Could your home have been overvalued?
If your home isn't selling, or you've received a valuation much higher than you expected and not in line with recent sales, why not get in touch for another opinion?
Call us on 020 8432 1505 or email James at james@fishneedwater.com for a fresh perspective on selling your home in South East London – and let's get your move underway.
Thanks for reading our blog article. We'd love to be able to assist you further by giving you some open and transparent advice about your property and how we can assist you. Just fill out the form below and we will be in touch.
Book your property consultation now