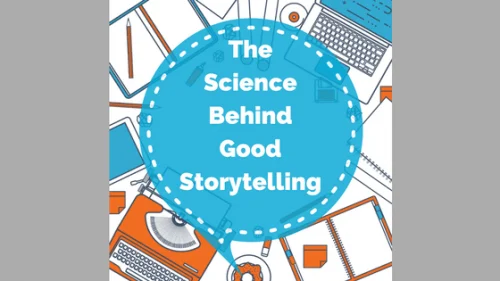 "We are, as a species, addicted to story. Even when the body goes to sleep, the mind stays up all night, telling itself stories." — Jonathan Gottschall, The Storytelling Animal: How Stories Make Us Human
There is a scientific explanation for our love of a good story, or when we hear a story that resonates with us, because our brain releases higher levels of cortisol, dopamine and oxytocin.
Why does that matter? If we are trying to make a point stick, cortisol assists with the formulation of our memories. Dopamine helps regulate our emotional responses and keeps us engaged.  Oxytocin makes us feel good.
This boosts our feelings of trust, compassion, and empathy, and ultimately, we are empathic creatures and as such, we respond to stories because they cultivate emotion and a sense of togetherness.  We make a connection, and it positively influences our social behaviours.
Because of this, stories have a unique ability to help us build connections.
When we hear facts, it activates the data processing centre of our brains, but when we hear stories, it activates the sensory part of our brains.
"facts tell, stories sell" Author Unknown
Why Storytelling can Help You Sell your Property
Do you know one of the most common questions an estate agent gets asked is 'what are the neighbours like?
"People like people who help them like themselves" Dale Carnegie
If you have great neighbours, and they've looked after your cat while you were away – you need to tell people this.
If your neighbour pops over for a tea and a chat, or you take in each other's Veggie boxes, that's a nice story and it'll create feel good feelings in a viewer.
We all want nice neighbours.
And buyers will empathise with all of your stories about your neighbours, how the street holds a get-together on fireworks night for the local children, the cafes or restaurants where they make a special dish not on the menu especially for you, or where you enjoy taking your dog for a walk and can chat to all the other dog walkers as they're friendly.  It all matters.
Experience counts on viewings
We've all been to a viewing where the agent barely said a word, couldn't answer your questions or stood on their phone the entire time.  I heard a story from a seller recently where the Saturday girl for the previous agency didn't even know the flat had a garden and the seller had to tell her!
Over the almost 15 years and 1000 sales I've made while working in agency I've learned that people love those stories they can empathise with. Therefore, telling these stories at viewings casts your property in a positive light for them.
"We went to view properties and the agent showing us round said very little other than introducing which room we were looking at. When we let James into our property along with the prospective buyers his approach was completely different. We could hear him outline the positives of our flat and building and why that would work for the prospective buyer. We were very impressed and he certainly earned his fee. In the end we had an over asking price offer after 18 days of the flat being on the market. We were over the moon." SE15 Mover
I'd love to hear your story, and all about your property so please call me on 020 8432 1505 or email me at james@fishneedwater.com.
Thanks for reading our blog article. We'd love to be able to assist you further by giving you some open and transparent advice about your property and how we can assist you. Just fill out the form below and we will be in touch.
Book your property consultation now